Come Blow Your Horn With Us
Established in 2001, the Amador County Community Band gathered local musicians and has since performed in Rancho Cordova, Golden Gate Park, and in 2010 represented Northern California in Washington D.C. at the National Community Concert Band Sousa Festival.
In 2011 the band grew to about 45 members and was renamed "Amador County Concert Band"; it is an active member of the Sacramento Valley Symphonic Band Association.
We welcome new members! Rehearsals are Monday evenings from 7-9pm at the Amador High School band room in Sutter Creek. Contact Steve Chambers for more information at 209-295-4305 or visit our website often for updates.
The band strives to perform a varied mix of musical styles. We seek to enhance the level of art in our community, to foster the importance of music in one's own life through performance, to provide an opportunity for our talented youth to grow and perform, and to bring enjoyable and quality music to you, our friends and supporters. ..and we look forward to seeing you at our next performance!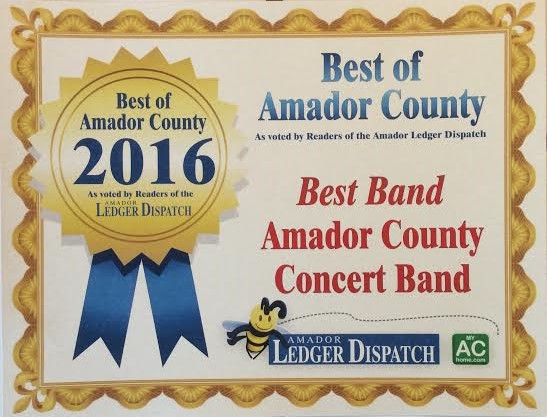 NEXT CONCERT
May 22th @ 3PM
Pine Grove Community Church
Auditions are NOT required to join the band.
If you wish to make a donation to the Amador County Concert Band, please make your check payable to "Sacramento Valley Symphonic Band Association" and then note in the memo the donation is for the Amador County Concert Band.
ACCBand
PO BOX 331
Pioneer, CA 95666